Fraud Prevention
Our Kompli-QED platform includes all the elements you need to perform best practice corporate on-boarding, KYC, Fraud prevention, EDD and ongoing monitoring. Our Investigation tools and reporting services give you the 'deep dive' capability you need as and when required.
Risk Mitigation
We use a combination of advanced AI driven technology combined with human expertise to fully identify corporate networks and alert you to potential risk indicators, bad actors and adverse events. Things that you really should know about.
Compliance Screening
Kompli-Global has developed specialist corporate due diligence solutions comprising of unique proprietary products, linked to best in class third party services to deliver comprehensive, international risk screening, on-boarding and on-going monitoring.
Reputation Protection
Kompli-Reveal will update your client records with the latest registry and risk information and alert you to things you really should know about your existing client estate. Kompli-Global bridges the gaps that exist in current corporate databases to enable far more accurate, efficient and compliant corporate due diligence.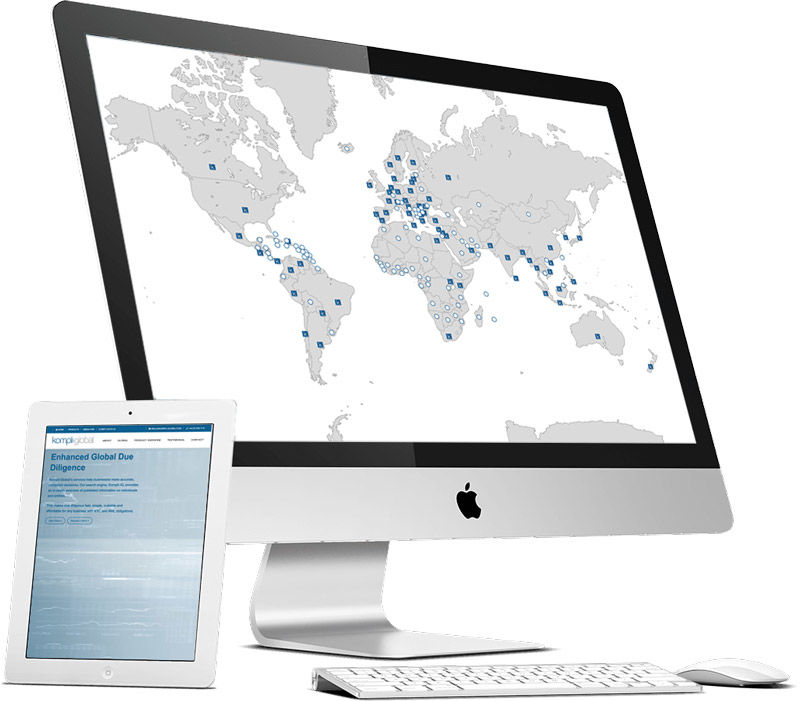 Global Coverage - Local Presence
Artificial intelligence (AI) searches and human investigative research is conducted in the native language augmented by Natural Language Processing (NLP) and local compliance experts from our global advisory community located in 67 countries, covering 161 regions.
67 Countries, 161 Regions
Native language search using local vernacular
Artificial Intelligence (AI) reads, sorts and ranks retrieved intelligence
Natural Language Processing (NLP) provides greater relevance information
Resident compliance expert in each country with local knowledge
SAVINGS
Kompli-QED delivers significant reduction in research time and therefore provides huge cost savings. Searches that would be too time consuming to conduct can be done in a few minutes.
DEEPER DUE DILIGENCE
Probably the most thorough, comprehensive and accurate corporate due diligence information available. Kompli-Global uses Artificial Intelligence (AI) augmented with NLP (Natural Language Processing) to search for, read, score, sort and rank retrieved information to uncover material that would otherwise be unavailable.
GLOBAL COVERAGE - LOCAL PRESENCE
Artificial Intelligence (AI) technology combined with expert human investigation. Deep-web searches and EDD research is conducted in the native language and local vernacular using local resident compliance experts in 67 countries, covering 161 regions.
AUTOMATED MONITORING
Automated, perpetual ongoing monitoring and screening delivers refreshed results when new information becomes available. Backed-up with a permanent and complete audit trail - Helps you to comply (and prove to your regulator that you comply) with money laundering regulations and associated legislation.