A rich research utility that allows for deeper investigation of entities when more in-depth research is required.
Kompli-Investigate will allow you to make connections with linked addresses, persons of significant control, officers, directors, and companies, uncovering connections that registries cannot recognise, or people have tried to hide.
It includes access to the award winning deep-web search platform, Kompli-IQplus™ which is the most powerful global, adverse information and negative media search available and can uncover material information missed by other systems.
Kompli-IQplus™ utilises a global regulatory platform that uses proprietary augmented intelligence and deep search technologies to interrogate a wide variety of global data sources and web content.
Searches are performed on target subjects, including corporate entities, individuals, trusts and other organisations (public and private) in relation to published pages and adverse information.
Searches include the interrogation of indexed content from the World Wide Web using traditional search engines such as Google, Bing, and Yahoo, as well as non-indexed 'deep web' sites and unstructured directories.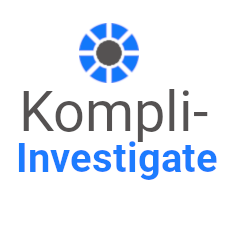 Find out how we can help
with deeper investigations.